Quick Product Finder
FIND
News and Features
EDS-2005
New Low-cost 5 Port Unmanaged Switch EDS-2005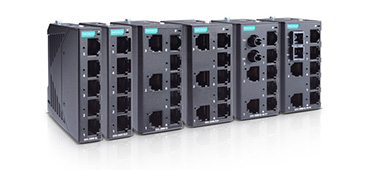 As the manufacturing industry continues to evolve and improve, the requirements of network infrastructure constantly change when refurbishing or expanding facilities. When these changes take place, there are often space constraints for installing products in existing cabinets or machines.
To keep up with changing connectivity requirements while saving you time and effort, the EDS-2000-EL Series unmanaged switches include 5- and 8-port Ethernet options, with the 5-port model only measuring 18 x 81 x 65 mm. In addition, a robust design allows you to continue to meet your demands for flexibility, reliability, and continuity.

Due to the current material shortages and logistic challenges, most Moxa products now have a minimum lead time of 10 - 12 weeks.

If you have Moxa requirements for the remainder of 2021 or if you wish to stock up on your high-usage Moxa parts, we greatly recommend that you place your orders as soon as possible to secure your spot in the inventoy allocation queue.
Product Updates
Product Change Notifications
Discontinuance Notifications
Recent Security Advisories
Our Customers
...we reached out to Neteon Technologies because of their capability of meeting the needs of our company. Neteon created an off-the-shelf product for us that was remarkable in its ability to offer successful data communications. Currently the product operates flawlessly in our networks located around the world thanks to the dedication of Neteon to their customers
-- Rob A.
Leading System Integrator in Melbourne, FL